Dispossession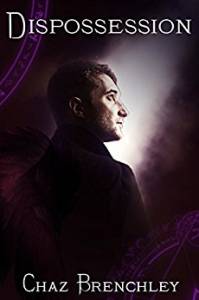 What would you do if you woke up in hospital and your last memory was dated January, but the calendar said April?
If they said you'd crashed a car, and you not only didn't remember the crash, but you didn't remember the car either?
If you were a solicitor, rigidly honest, and the biggest bunch of flowers in the room had come from the biggest crook in town?
If there were no flowers or visits from your long-time girlfriend, but the total stranger at your bedside claimed to be your wife - and then proved it?
If someone drove a blazing truck into your room in an obvious attempt to kill somebody, and very possibly you?
When all this happened to Jonty Marks, he ran for sanctuary. To the mountain garden of a fallen angel...
Dispossession is now available in a new Kindle edition from Amazon UK and from Amazon.com.
Available in an Audible audio edition, read by Matthew Waterson, ready to download from Amazon UK or from Amazon.com.
---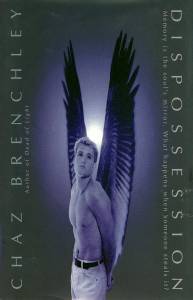 Reviews of the original edition
"Dispossession by Chaz Brenchley (NEL, UK) is a fine, neatly constructed dark mystery about a man who awakens from a car crash with amnesia of the past three months of his life during which time he has acquired a new wife, a new lifestyle, and a new boss - a crime lord. As he tries to unravel the various strands of strangeness, he discovers that his life may be in danger. Much of the action is realistic and down to earth - except for the existence and participation of Luke, a fallen angel, who plays a very important part in the protagonist's fortunes."
Ellen Datlow
"Dispossession is one of those increasingly rare books that remind you just how satisfying fiction can be"
Charles de Lint, Fantasy & Science Fiction's Books to Look Out For
"Ma relecture, c'est celle d'un thriller anglais, Dispossession de Chaz Brenchley. Je crois que cet auteur n'a jamais été traduit en France, ce roman date en tout cas de 1996. L'envie m'a pris de le relire car j'y repensais (preuve que les images qu'il recèle furent pour moi marquantes) et j'ai réalisé que j'avais tout à fait oublié les tenants et les aboutissants de son intrigue. C'est l'avantage de ma médiocre mémoire: ainsi puis-je relire des romans sans en savoir la fin! Et je le redécouvre, aussi séduit que la première fois. Un avocat ayant perdu trois mois de mémoire, durant lesquels il a soudain changé de vie de tout au tout; son amitié avec ce qui semble bien être un ange; son implication dans un complot... Captivant, et littérairement superbe."
Neverland
Rob Slade enjoyed it too.
---