The Garden
At twenty-four, Steph Anderson has been two years a widow, her husband, Tom, the second victim of a brutal serial murderer. Now involvement with the Sherpas, a self-help organisation for the bereaved, is beginning to bring Steph back into the world. Contact with Alice Armstrong, a frail elderly woman whose twin brother recently died a violent death, gives her renewed life and purpose: a renewal symbolised by Steph's taking over the garden at Alice's remote country cottage.
Meanwhile Laurie Powell too is rebuilding his life, after a disastrous affair in London has left him bitter and emotionally damaged. His company sends him to a new job in Newcastle, where he finds love again in an unexpected quarter.
But the killer strikes once more, with terrible consequences for both Steph and Laurie...
An Amazon reviewer wrote:

Relentless suspense and a chilling climax. A nightmare rendered in balletic prose. Brenchley knows how to keep you up at night with images you can't un-see. No one is safe in his fictional worlds, so the tension never eases up. If you're into being seriously creeped out, you can't go wrong with this one.
---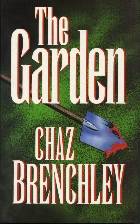 The Garden has been reissued in a new Lethe Press edition, available:
The Garden was first published in the UK by Hodder & Stoughton in 1990. The Coronet paperback edition was published the following year.
The Garden was translated into Swedish as Dödens Trädgård (1992).
Chaz claims that when The Garden was first published, he found a copy in Hatchards' bookshop, filed under Gardening...
---