Cooking with Chaz
Chaz is a notorious foodie, and critics often comment on the descriptions of food in his novels. He's also a great cook, and he didn't take much persuading to part with a few recipes...
---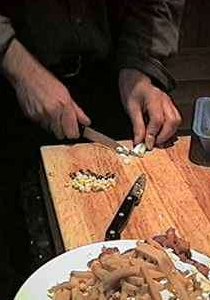 ---
But first, relax with a cocktail...

... the cocktail we invented for my first launch-party, called of course, The Samaritan, which is just the best bloody cocktail you will ever have tasted...
The Samaritan
Take a wineglass, and add the following ingredients, all at room temperature:

1 measure gin (or vodka works too, once you've run out of gin)
1 measure creme de cassis (for the blood)
a splash - no more ! - of orange juice
a dash of orange bitters
Top up to the brim with dry Martini, stir and serve.
---
Photos by © Roger Cornwell