Dead of Light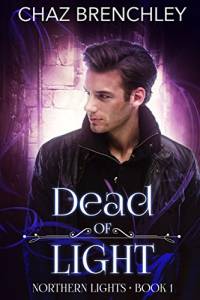 There are three things you can never escape. Your family. Your past. And your magic.
Ben Macallan isn't your average young man rebelling against his family. The Macallans are not only ruthless crime lords - they use magic to rule their city. Magic that Ben lacks... or so he thinks.
When Ben walked away from his family and the criminal life, he thought it would be forever. But then the talent begins to wake up in Ben. And his family starts to die, one by one, in vicious, gruesome, horrible deaths. There's someone in the city with as much talent as the Macallans, and they're using it to kill Ben's family.
Like it or not, you can't turn your back on blood. It's in Ben's body, in his veins and in his heart. Just like magic.
"That's a favourite" says Chaz. "And you know what I always say about it? It ain't a horror novel, it's a mafia novel with added magic. And a coming-of-age novel, a rites-of-passage novel - and secretly a whodunnit, but keep that under your hat..."
---
Download the new Kindle edition from Amazon.com
Download the new Kindle edition from Amazon UK.
Available in an Audible audio edition, read by James Patrick Cronin, ready to download from Amazon UK or from Amazon.com.
---
"This is my first book by Chaz Brenchley, but it won't be my last. The man has enormous depth as a writer, giving us a searing portrait of a young man who has never lived among normal people, and has no idea how relationships are carried out."
"Contemporary crime fiction is a broad church. There isn't a subject or a style that's excluded. Often, the books that push back the boundaries are among the best, like Patricia Cornwell, Ruth Rendell or Peter Hoeg. With his latest book, Chaz Brenchley demonstrates there is still new ground to be broken, and cultivated well.
"The Macallan family are a close-knit Mafia who run their city with ruthless efficiency. That, and magic. For the Macallan men are no ordinary team of villains. The unique talent that passes from one generation to another means their grip on their territory seldom slackens. That is, until someone shows up with more talent than all of them put together and Macallans start dying in ways more horrible than they could ever have imagined. It's a crisis that forces the family reject, Benedict, back into their spiky bosom. Benedict, the self-imposed outcast, the talentless one, holds the key to the serial murders that are decimating his family. But is it a key he understands? And can he bring himself to use it?
"Brenchley is a writer who worms his way into the heads and hearts of his characters and tells their terrible, tragic truths. Dead of Light grips like superglue. Powerful, poetic and passionate, it reveals an assured and accomplished story-teller at the peak of his powers. Like the whisky the family shares its name with, it's magic!"
Val McDermid, Tangled Web:
---