News and Events
"English girls' boarding-school stories. On Mars."
Chaz has updated his Patreon with news that explains the focus of this fundraiser. He explains: "My wife Karen has multiple sclerosis, and has been accepted onto a program that offers radical new treatment, chemotherapy followed by a stem cell transplant that reboots the immune system and can function as a complete cure. Of course this is expensive, and we have to find the funds. For the foreseeable future, then, this Patreon is functioning as a fundraiser, to mend my broken Karen. Please contribute if you can; even three bucks a month makes a difference."
Subscribers have acces to new, never-before-published content, for which the elevator pitch is, indeed, "English girls' boarding-school stories. On Mars." Old Mars that is, the Mars with the canals, that might have been a province of the British Empire. Where there would surely have been a boarding school, one which might remind you of Elinor M Brent-Dyer's Chalet School, if the Chalet School were to move to Mars. The first book in the series, Three Twins at the Crater School, is now finished, and Chaz is publishing the second, Dust-Up at the Crater School, chapter by chapter, to subscribers to his Patreon. Being Chaz, he is throwing in the odd recipe as well!
In addition, there's Outremer. At the back end of the nineties and the beginning of the oughts, Chaz wrote a 700,000-word extravaganza, his first venture into epic historical fantasy. The Books of Outremer take place in a parallel to the Crusader States, where religion twists easily into magic and the desert is inhabited by djinn and 'ifrit and more. Because nothing in Chaz'z career has ever been simple or straightforward, it was a fat trilogy in the UK and six slender volumes in the US (published at the rate of one a month, in a charming experiment that completely didn't work). Neither edition has ever been available in e-books - until now. Chaz currently plans to release Outremer via Book View Cafe, in an Author's Cut (essentially the US six-volume edition, lightly polished because apparently he never can stop fiddling) - but he is publishing them chapter by chapter on Patreon first.
Want to know more? Read all about it on the Patreon website.
---
Repossession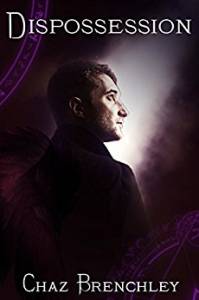 What would you do if you woke up in hospital and your last memory was dated January, but the calendar said April?
If they said you'd crashed a car, and you not only didn't remember the crash, but you didn't remember the car either?
If you were a solicitor, rigidly honest, and the biggest bunch of flowers in the room had come from the biggest crook in town?
If there were no flowers or visits from your long-time girlfriend, but the total stranger at your bedside claimed to be your wife - and then proved it?
If someone drove a blazing truck into your room in an obvious attempt to kill somebody, and very possibly you?
When all this happened to Jonty Marks, he ran for sanctuary. To the mountain garden of a fallen angel...
Chaz'z crime / mystery / dark fantasy (did I mention the fallen angel) novel Dispossession is available at last in a new Kindle edition from Amazon UK and from Amazon.com.
---
News from Elsewhere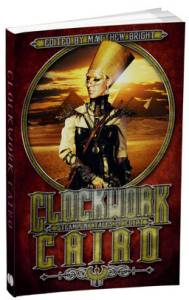 Two brand new short stories from Chaz Brenchley must be something to celebrate: a story from the city on the edge of the desert now, a story from the rain-lashed coast to come...
Thermodynamics; and/or The Remittance Men appears in Twopenny Press's inaugural anthology, Clockwork Cairo. An anthology of Egyptian-themed steampunk stories, edited by Matthew Bright, it promises to take you on an adventure from the steam-powered souks of Cairo to the clockwork bazaars of Alexandria and the shadowy mysteries of the pyramids. Clockwork Cairo was published on May 28th, 2017, and can be ordered direct from Twopenny Press, from Amazon UK, or from Amazon.com.
Then greet the autumn with Chaz'z tale of sudden storms, The Fold in the Heart. This appears in the modestly titled New Fears - New Horror Stories by Masters of the Genre, but since, in addition to Chaz, it features such stars as Muriel Gray and Ramsey Campbell, the titl is probably accurate. Edited by Mark Morris and published by Titan books, New Fears is available for order from Amazon UK, or from Amazon.com.
---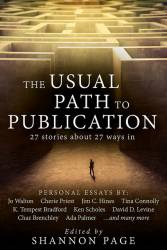 The Path Less Travelled
Rhere are two questions that authors are always asked: one is "Where do you get your ideas from?" and the other is "How can I get my book published?" But, as Shannon Page told John Scalzi's Big Idea, she was still a bit startled at one open panel where the participants could ask us anything, when an intrepid audience member raised their hand with a question about the "usual path to publication."
Is there a usual path to publication? The more she thought about it, the more she thought it would take a whole book to answer that question. The Usual Path to Publication, published by Book View Café, collects the experiences of 27 different authors: one of them is Chaz, who never takes the usual path to anywhere - but if you want to read what he says, you'll have to buy the book!
---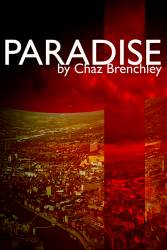 Paradise Regained
Chaz'z novel Paradise - which treats with miracle healing and religious revival and local crime and council corruption and intentional community in unnamed-city-somewhere-perilously-adjacent-to-Newcastle in the 1990s - is now reissued in mobi and epub formats, via the wonderful Book View Café. A mere $4.99 lays this precious burden in the device of your delight, nicely ready for holiday reading, Chaz suggests optimistically.
(And furthermore, it has a cover by Hugo-Award-winning artist Elizabeth Leggett so.
Read more about Paradise.
---