News and Events
News from Elsewhere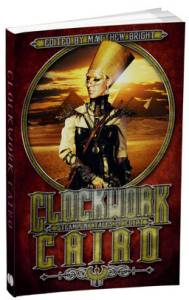 Edited by Matthew Bright, Clockwork Cairo is Twopenny Press's inaugural anthology. An anthology of Egyptian-themed steampunk stories, it promises to take you on an adventure from the steam-powered souks of Cairo to the clockwork bazaars of Alexandria and the shadowy mysteries of the pyramids. And it includes a brand-new story by Chaz Brenchley, titled Thermodynamics; and/or The Remittance Men.
Clockwork Cairo will be published on May 28th, 2017, and can be ordered direct from Twopenny Press, from Amazon UK, or from Amazon.com.
Even further afield, Chaz continues his explorations of Mars - Old Mars that is, the Mars with the canals, that might have been a province of the British Empire. Being Chaz, he isn't writing classic genre SF: these are tales of life at a boarding school which might remind you of Elinor M Brent-Dyer's Chalet School, if the Chalet School were to move to Mars. The first book in the series, Three Twins at the Crater School, is now finished, and Chaz is publishing the second, Dust-Up at the Crater School, chapter by chapter, to subscribers to his Patreon. Want to know more? Read all about it on the Patreon website.
---
New Light on Ben Macallan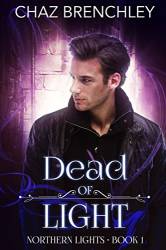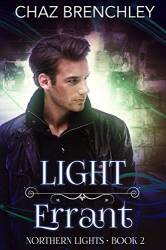 It's been twenty-one years since the first publication of Dead of Light: long before urban fantasy was a thing, Chaz Brenchley launched Ben Macallan and his estranged, powerful, magical family onto the streets of an unnamed but - almost - identifiable city. Two years later, Ben returned in Light Errant, which won the British Fantasy Society's August Derleth award for best novel of the year.
All of which is good reason to celebrate, which Chaz has done by publishing irresistible new editions of both Dead of Light and Light Errant.
If you have not yet met the Macallan family, now is the perfect time: Dead of Light is available from Amazon.com and from Amazon UK; Light Errant is likewise available from Amazon.com and from Amazon UK.
---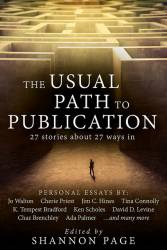 The Path Less Travelled
Rhere are two questions that authors are always asked: one is "Where do you get your ideas from?" and the other is "How can I get my book published?" But, as Shannon Page told John Scalzi's Big Idea, she was still a bit startled at one open panel where the participants could ask us anything, when an intrepid audience member raised their hand with a question about the "usual path to publication."
Is there a usual path to publication? The more she thought about it, the more she thought it would take a whole book to answer that question. The Usual Path to Publication, published by Book View Café, collects the experiences of 27 different authors: one of them is Chaz, who never takes the usual path to anywhere - but if you want to read what he says, you'll have to buy the book!
---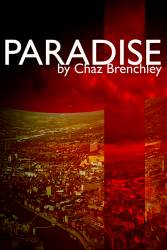 Paradise Regained
Chaz'z novel Paradise - which treats with miracle healing and religious revival and local crime and council corruption and intentional community in unnamed-city-somewhere-perilously-adjacent-to-Newcastle in the 1990s - is now reissued in mobi and epub formats, via the wonderful Book View Café. A mere $4.99 lays this precious burden in the device of your delight, nicely ready for holiday reading, Chaz suggests optimistically.
(And furthermore, it has a cover by Hugo-Award-winning artist Elizabeth Leggett so.
Read more about Paradise.
---