Everything in All the Wrong Order
The Best of Chaz Brenchley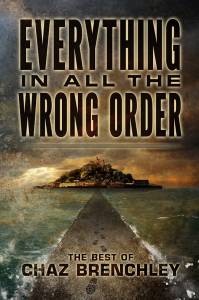 For more than thirty years, Chaz Brenchley has been one of Great Britain's most distinguished - and uncategorizable - writers of speculative fiction. His award-winning short stories move with deceptive ease from one genre to another, offering an astonishingly varied array of sheer narrative pleasures. While much of his work may be unfamiliar to American readers, the appearance of this generous, career-spanning volume should do much to change all that.
The Best of Chaz Brenchley contains more than thirty stories from the author's vast fictional archive, and each one of them is a polished, unexpected gem. Together, they encompass an impressive range of themes, subjects and settings, including: a drinking establishment frequented by the pilots who navigate the intricacies of n-space; a hazardous - and haunted - stretch of rocks off the British coastline known as the Silences; a post-World War I Europe still awash in grief and an abiding sense of loss; a terminal known as the Tower of Souls, from which earthbound humans can take flight; British colonialism both in 19th century Cairo and on Mars; and much, much more.
The stories gathered here are consistently readable, thoroughly imagined and written in a voice that is distinctive and instantly recognizable. But they never lose sight of the universal human concerns that lie at their center: guilt, loneliness, unfulfilled longings, and the inevitable threat of encroaching mortality. This magisterial collection offers all these things in generous measure, and the result is a book that readers have needed for a very long time, whether they know it or not. The Best of Chaz Brenchley is something truly special. Open it up at any point and find out for yourself.
Included in the 2021 Locus Recommended Reading List.

A starred review in Publishers Weekly says: "These 32 superior stories from Lambda Award winner Brenchley (Bitter Waters) represent a tiny fraction of the gifted, prolific author's output, but nevertheless showcase his ability to craft impactful shorts... Every entry enhances creative plots and plausible characterizations with outstanding writing. This sampler of Brenchley's work makes clear his mastery"
" ...these 30-plus stories reveal a masterful author adept at many stylings and themes."
Paul Di Filippo, Locus
" ...every story here plays with - and exceeds - any and all expectations."
Anthony Cardno, Strange Horizons
Published by Subterranean Press (31st August 2021).
Table of contents
Introduction by Elizabeth Bear
Uncanny Valley
In Skander, For A Boy
The Burial of Sir John Mawe at Cassini
The Keys to D'Espérance
White Tea for The Tillerman
Ashes to Ashes
I Am Death's Brother
Luke, Homeward Angel
Every Day A Little Death
Another Chart of The Silences
Terminal
Keep The Aspidochelone Floating
From Alice to Everywhere, With Love
Live at Maly's
Going The Jerusalem Mile
Dragon Kings Play Songs of Love
For Kicks
Parting Shots
A Fold In The Heart
Winter Journey
Thermodynamics and/or The Remittance Men
Freecell
A Terrible Prospect of Bridges
White Skies
When Johnny Comes Marching Home
Where It Roots, How It Fruits
2 Pi To Live
Ch-Ch-Changes
Quinquereme of Nineveh
The Astrakhan, The Homburg and The Red Red Coal
The Insolence of Candles Against The Light's Dying
Story Notes
---