Pandæmonium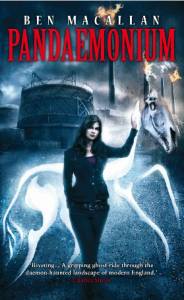 Desdæmona's done a bad, bad thing.

A thing so, so terrible that she has to run away from the consequences. Again.

Where better to look for shelter than with the boy she was running from before? But trouble follows. And if it's not Jacey's parents who sent the deadly crow-men, the Twa Corbies, in chase of her, then who is it?

Deep under London, among the lost and rejected of two worlds, answers begin to emerge from Desi's hidden past. Answers that send her north in a flight that turns to a hunt, with strange companions and stranger prey. Dangers lie ahead and behind; inconvenient passion lays traps for her, just when she needs a clear head; at the last, even Desi has to beg for help. From one who has more cause than most to want her dead...
Pandæmonium, published in autumn 2012, is the second installment of a fascinating urban fantasy series by new author Ben Macallan. It is the sequel to his highly successful Desdæmona.
Chaz Brenchley, Ben Macallan's alter ego, gives a glimpse of his writing process: following the publication of Desdæmona, "we had the same cover artist lined up, the wonderful Vinny Chong; my editor kept asking me for a brief for him, 'Chaz, give us an image, a description, a character, a plot-point, anything for Vinny to work from,' and I kept saying, 'How can I do that? I haven't written the book yet! I don't know what happens, I don't know who's in it. I know it switches narrator, I know it's Desi's book and I know where it starts, immediately after Desdæmona ended, but that's all I know. Leave me alone...'
"Publishers are stubborn, and they never leave you alone. They kept at me, until at last I did what they wanted; I sat down and thought about cover images, and creatures out of English myth (Desdæmona starts with werewolves and vampires, just to establish the milieu, but moves on quickly: it has Nine Men's Morris and the Green Man, inter alia), and ended up with a creature out of English landscape. I asked Vinny if he could draw a White Horse in the Uffington sense, a horse cut from chalk and light, with a skull like a Mari Lwyd. Which Desi could ride.
"As it turned out, he could and did. So then I had the central image, a hellride to build towards; which tied in nicely with the transport motif in the first book. That's buses and bikes and boats, largely; this one has the Tube and the Dockland Light Railway and roller-blades and the White Horse. Does it show, I wonder, that I'm not a driver...?"
"Riveting... A gripping ghost-ride through the daemon-haunted landscape of modern England."
Charles Stross
"Jolly entertaining."
David Langford, The Telegraph
Read more about the background to the Daemonomicon.
Pandæmonium is published by Solaris Books:
---