Being Small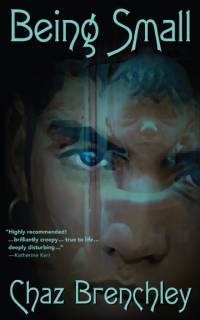 British Fantasy Award winner Chaz Brenchley has crafted a deeply personal ghost story of dead twins and mad mothers, of Moleskine notebooks and teen friendships, of AIDS care-givers and more.
"... a powerful, moving book that will haunt me a long, long time."
Jaime Lee Moyer, award-winning author of Delia's Shadow
Michael's shadow twin - Small - was his foetus in foetu before being removed and preserved in a specimen jar at the medical school.
Michael and his single mother keep the rest of the world at bay while they hold the spirit of Small close - she homeschools Michael, moves house every six months, and at restaurants she asks for a table for three, "but there'll only be the two of us eating."
When Michael turns sixteen, he meets a household of men caring for Quin, dying of AIDS. Michael is drawn ever more deeply out of his lifelong conversation with his mother and Small and into the far more tangible world he finds at the house down the street with Quin, Kit, Gerard, and the others ...
... and discovers some unexpected things about himself in the process.
"One of the modern masters of fantasy delivers a subtly chilling novella about a boy who grows up alternately comforted and haunted by the ghost of his 'shadow twin' Small, an under-developed fetus who was removed and put in a specimen jar at a medical school."
Locus
"Chaz Brenchley ... tells a bizarre coming-of-age story in his lovely short novel"
"Not much of a truly horrific nature happens in Being Small - Brenchley's tone is quiet, contemplative - but it's intensely dramatic, in the way adolescent problems tend to be, in teenagers' inward eyes. 'It might be war,' Michael announces, 'where only the strong survive.' Brenchley makes this tooth-and-claw battle thrilling."
Terrence Rafferty, New York Times Book Review
"It's the kind of book you want to read twice, at least, once for plot and once to see it all in the light of the plot twist/paradigm shift. It's a short book, so it will be easy to do that, but I'd do it even if the book were 800 pages long. It's that good. A classic: deft, subtle, moving."
"The spiraling ending is chilly and horrible and yet fits the warmer tones of the short book leading up to it perfectly.
"Not my usual sort of thing, but if you're not turned off by the description of what sort of internal/external ghost story this is, it may well be worth stepping outside your usual too."
Being Small was published by Per Aspera on August 28th, 2014; like all their titles it was released simultaneously in hardcover (ISBN: 978-1-941662-00-7), trade paper (ISBN: 978-1-941662-01-4), and a variety of e-book formats.
In the US:

In the UK:
Katharine Kerr, author of the 'Deverry' series, says: "Being Small is brilliantly creepy, too true to life to be full-blown horror, but deeply disturbing none the less. What do you do when your imaginary friend turns to evil? And what if, worse yet, he's not imaginary at all? Highly recommended!"
Marissa Lingen says "The spiraling ending is chilly and horrible and yet fits the warmer tones of the short book leading up to it perfectly."
---