Bitter Waters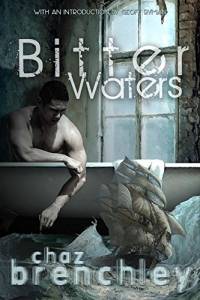 The average adult male is approximately 60% water.
Blood tastes salty as more than two thirds of the sodium circulating throughout your body is carried in arteries and veins. Which means that your heart is like a miniature ocean within your chest.
Chaz Brenchley has not only been awarded the British Fantasy Society's August Derleth Award but knows all too well the storms and dangers of the heart: the lofty desires, the grieving nadirs, the tempest of love. In Bitter Watters, his first short story collection devoted to gay readers, Brenchley offers men fantastical instances to effleurer, to break for taller timber, to drown in emotions.
And while not every tale in this breathtaking collection involves the sea, tears and bloodshed still need to be navigated.

A starred review in Publishers Weekly says: "Brenchley charts the treacheries of the sea and the human heart in this haunting collection ... Deceptively light, allusive titles (Junk Male, 'Tis Pity He's Ashore, Villainelle) give away little of their stories' knotty emotional depth. The discursive, sharply detailed style permits a remarkable control of tone ... This clever and subtle collection, Brenchley's first since 1996's Blood Waters, visits 17 unforgettable ports of call."
Kirkus Review says "Brenchley's horror is most effective when it's understated, a matter of half-seen apparitions and anxious disorientation; ... A fine collection that imbues fantasy, action and horror with real literary depth.".
In June 2015 Bitter Waters won a Lambda Literary Award, in the LGBT SF/F/Horror category; it was included in the Kirkus list of Best Indie Books 2015.
Table of contents
Introduction by Geoff Ryman
Another Chart of the Silences
Junk Male
The Pillow-Boy of General Shu
In The Night Street Baths
The Insolence of Candles Against the Night's Dying
Parting Shots
Up The Airy Mountain
The Light of Other Eyes
Septicaemia
The Cupboard of Cold Things
True North
Hothouse Flowers: or The Discreet Boys of Dr Barnabus
One For Every Year He's Away, She Said
Keep The Aspidochelone Afloat
'Tis Pity He's Ashore
The Boat of Not Belonging
Villainelle
Bitter Waters, published by Lethe Press (November 2014) with an introduction by Geoff Ryman and cover art by Elizabeth Leggett, is available in paperback from Amazon.com and from Amazon UK.
The audio edition is available from Audible.com.
"I highly recommend that you read this non-formulaic collection of stories from this remarkable author. His stories and characters will forever remain in your heart."
Prism Book Alliance (rated 4.75 of 5 Stars)
"There is love, or not; there is loss, or not; and where there is genuine love, there is sometimes genuine grief to match, and sometimes that love is undermined and taken apart by darker revelations."
"...prepare then to take journeys to worlds unimagined - to the harem of a Sultan who never was; to a land that isn't quite ancient China; to a war-torn land of magic; to the harsh reefs of the Silences (where modern satellite technology fails); some of these places may even resemble the world we know; only some of these places can be reached by the sea. But most of all, be prepared to travel the uncharted geography of the human heart."
Keith Glaeske, Lamda Literary
---