Rotten Row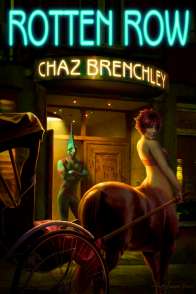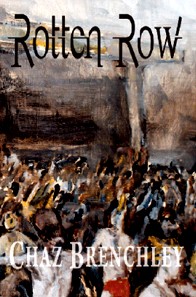 Rotten Row is the worst place we've made.

Humankind can travel to the stars - but only if you're sure of yourself. Content to be flung as a datastream through space, flitting from male to female, dark to fair, tall to short to broad, one random discard body to the next. Those who go are the Upshot, rare individuals subject to their own rigid laws.

And then there's Rotten Row.

Outcast from the Upshot community, in breach of all codes, in Rotten Row people design their own bodies and sell them on for re-use after. Outlandish bodies: furred and feathered, winged and hooved and worse.

duLaine is an artist, but all art is about identity; where one blurs into the other beyond physical limits and legal restraint, what is art worth and how can anyone be certain who they are?

duLaine travels to Rotten Row in search of answers, and finds himself snared by passions, plots and betrayals beyond his worst imaginings, far beyond his ability to control.
"This novella is more a meditation on identity and art than the more ordinary kinds of SF. Beautifully written, and crafted by a master stylist."
Katharine Kerr, Goodreads
"What is far more potent, even more than the rich and interesting worldbuilding, is the consideration of the themes of art and identity. The story succeeds, ultimately, as a potent meditation on these two themes."
Paul Weimer, SF Signal
Rotten Row was originally published by PS Publishing in hardback in September 2011, ISBN: 978-1-848632-11-0; that edition is now out of print. It has since been issued in a variety of formats:
As an eBook,

published by Book View Café; also available from Smashwords, from from Amazon.com and from Amazon UK

in an Audible audio edition, read by John McLain,

ready to download from Amazon UK or from Amazon.com.

As an unabridged audiobook on MP3 CD, read by John McLain,

from from Amazon.com.
Chaz says: "All fiction is an act of autobiography, that's inherent. We give ourselves away in every line. Science fiction is no different; even the questions are no different, because all fiction is also an act of interrogation. Rotten Row is about art and creativity, identity and personality: where they merge, where they separate. It's about margins: those who inhabit them, those who describe them, those who test them.
Oh, and it's a caper movie. It's a heist."
From Alice to Everywhere, with love, a short short story about the origins of Upshot technology, was originally published in Nature in March 2008 and is now exclusively available to read on this website. Another story, Terminal was published in the NewCon Press anthology, disLOCATIONS, and placed third best short story in the BSFA Awards 2008; hear it read by the author in a Starship Sofa Podcast.
---