HIDDEN CITIES
An epic fantasy by Daniel Fox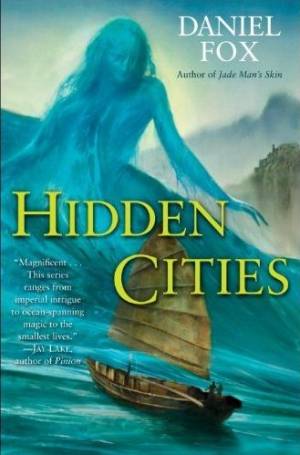 Moshui, the Books of Stone and Water: Book Three
The mythic beasts and glorious legends of feudal China illuminate a world at war in this, the conclusion to Daniel Fox's critically acclaimed series.
Whatever they thought, this was always where they were going: to the belly of the dragon, or the belly of the sea.
More by chance than good judgment, the young emperor has won his first battle. The rebels have retreated from the coastal city of Santung - but they'll be back. Distracted by his pregnant concubine, the emperor sends a distrusted aide, Ping Wen, to govern Santung in his place. There, the treacherous general will discover the healer Tien, who is obsessed with a library of sacred mage texts and the secrets concealed within - secrets upon which, Ping Wen quickly realizes, the fate of the whole war may turn.
As all sides of this seething conflict prepare for more butchery, a miner of magical jade, himself invulnerable, desperately tries to save his beautiful and yet brutally scarred clan cousin; a priestess loses her children, who are taken as pawns in a contest beyond her comprehension; and a fierce and powerful woman commits an act of violence that will entwine her, body and soul, with the spirit of jade itself. Amid a horde of soldiers, torturers, and runaways, these people will test both their human and mystical powers against a violent world. But one force trumps all: the huge, hungry, wrathful dragon.
Read an extract from Hidden Cities
---
Hidden Cities is included on the Locus Recommended Reading List for 2011.
"This is a book about what is ruined, and what is left: about surviving war, betrayal, injury, life, and building anew. The 'hidden cities' of the title are, by implication, those things which are preserved and remade: the palace the emperor is building in the centre of Taishu, the dowager empress who preserved her emperor-son so that he could remake his empire, pregnant Mei Feng, the survivors of Santung, even, perhaps, the dragon herself."
Liz Bourke, Ideomancer
"Magnificent... This series ranges from imperial intrigue to ocean-spanning magic to the smallest lives."
Jay Lake, author of Pinion.
"With Hidden Cities, Daniel Fox has once again shown himself to be at the forefront of modern literary fiction. You may choose to call it fantasy fiction, but the magical realism of a world where dragons fight gods, where men gradually turn to stone, where women tame jade tigers... this is a world that is closer to our own than fantasy, and is written in the lucid, luxuriant prose of the best literary writers. The characters are complex and real, the plots twist faster than a hunting tiger and yet the central thrust is clear and strong. You couldn't ask for more in the third book in this majestic series. We can only hope there are many more."
Manda Scott
"The conclusion of Fox's trilogy set in a magical version of ancient China (Dragon in Chains; Jade Man's Skin) mixes action with scenes that feel like timeless, almost perfect moments. ... The result is an oddly pleasing feel of unhurried harmony even while the world seems ready to tear itself apart. The story and conclusion alike retain Fox's hallmark graceful prose and pace."
Publishers Weekly
"...the final volume in one of the best trilogies of the last few years, providing thoughtful fantasy against a background of war.."
---
Hidden Cities, the third and final volume of the Books of Stone and Water, was published by Del Rey on March 22, 2011.
Quote the ISBN - 978-0-345-50303-9 - to help your local bookstore order it for you (don't know your local independent bookstore? Ask IndieBound!), or order it from Amazon.com (also available for Kindle), Amazon.co.uk (Kindle edition) or Barnes & Noble or buy it direct from the publisher, in hardback or eBook formats.
---
Moshui Home page

Dragon in Chains

Jade Man's Skin

This page: Hidden Cities