JADE MAN'S SKIN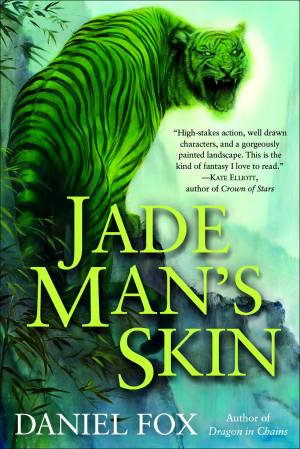 Moshui, the Books of Stone and Water: Book Two
In this second volume of his soaring epic, Daniel Fox weaves the ancient myths and legends of feudal China into a fantasy world of brutal war and brittle passion, immortal gods and mystical creatures.
With the long-chained dragon now free and the rebels' invasion smashed by her exultant fury, the balance of power has changed. Young emperor Chien Hua is no longer struggling for survival; now he is ambitious to strike back. As treacherous General Ping Wen whispers in the emperor's ear, not even Chien Hua's beloved concubine or his most trusted bodyguard can reason with him. Worse, prolonged exposure to magical jade is changing him radically: his increasingly godlike powers are making him dangerously rash.
But with the dragon patrolling the skies above and the strait beneath, the emperor's forces have no hope of launching a counterattack - until a goddess moves to interfere. Yet neither the clash of armies nor the opposing wills of goddess and dragon can decide ultimate victory or defeat. The fate of the war lies in the blood-deep bonds between the dragon and the boy Han, her jailer and her liberator - and in the prices both will pay for their freedom.
Read an extract from Jade Man's Skin
---
"Readers who enjoyed Fox's delicate descriptions and leisurely prose will be thrilled to find more of the same, along with greater depth of story as the numerous characters are pulled together by schemes and destiny."
"Buy the books. Immerse yourself in [Daniel Fox]'s world. And then find all the jade you can to ensure that he gets the magic he needs to complete - and publish - the story.."
"Fox's love of all things Chinese shines through this sequel to Dragon in Chains, which should appeal to fans of Asian-themed fantasy such as Lian Hearn's Across the Nightingale Floor and Barry Hughart's Bridge of Birds."
"This is both a stand-alone story and an excellent continuation of Fox's previous novel. Set in a richly detailed, feudal, Asian-style empire, the plot revolves around rebellion, betrayal and bonds. At times some characters seem to be two-dimensional, but this occasional thinness is easily overlooked in the midst of the dense, multilevel plot. All told, it is a tale that's hard to put down until the last line."
Romantic Times (Five star review)
"Jade Man's Skin is an excellent and highly recommended sequel. Filled with action and conflict, and moving the story forward on several fronts, it will leave readers anxious for more."
Hilary Williamson, Bookloons
"We wanted to see more of the same. We really did. But, as it turned out, there was a different path for them to follow.
"The morning after the night before, as it were.
"The results are just as good, but different...
"This is a hugely enjoyable second outing, full of sharply economical writing and cleverly constructed character development."
Jade Man's Skin is on the Locus Recommended Reading List for 2010.
---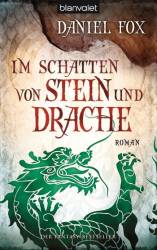 Jade Man's Skin is ISBN 978-0-345-50304-6; use this to help your local bookstore (don't know your local independent bookstore? Ask IndieBound!) order it for you, or order your copy now from Amazon.com, Amazon.co.uk, Barnes & Noble or from Powell's Books.
Download the Kindle edition from Amazon UK or Amazon.com.
The German translation of Jade Man's Skin, Im Schatten von Stein und Drache is published by Blanvalet; translation by Maike Claußnitzer.
---
Moshui Home page

Dragon in Chains

This page: Jade Man's Skin

Hidden Cities